What's Happening at the Jessamine County Historical Society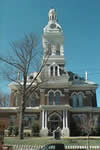 Halloween, October 31st:
The Historical Society will be participating in "Spooky Time on Main", sponsored by Nicholasville Now. Our table will be located on Main Street near Oak Street from 6:00 - 8:00 PM. We will have candy for the youngsters and hope everyone can stop by.
Christmas Open House:
We plan to have an open house during this year's Christmas Celebration on December 12, 2015 so we can show members and non-members what we have to offer. This would be a great time to join the Historical Society and enjoy all the events and speakers in 2016. We will have a personalized stocking for the children.
Grant Funds:
We have been informed that you will see a new box you may check on your Kentucky State Income Tax form. It is now possible to designate a portion of your state income tax refund to the Kentucky Local History Fund. The Jessamine County Historical and Genealogical Society qualifies to receive grant funds from this fund, which is overseen by the Kentucky Historical Society. Please feel free to stop by the office for more information.
Our First Gold Sponsor
is Janelle Fain. We want to thank her for her most generous sponsorship.
Membership Renewal:
Please don't forget to renew your annual membership. The total amount of your dues goes toward maintaining your Jessamine County Historical Society. Without you, we could not exist. If you have friends or family that are interested in Jessamine County, please encourage them to join the Society. Click on the
Membership & Sponsorship
tab for an application to either mail or drop off at our office.
New Members:
Florence Hubbard Babos, Richard A. Barclay, Jane A. Brantley, Lee Dickson, Arlene D. Hawkins, Helen Hubbard Martin.
---
Our theme for 2015 is the Military. To kick off our theme, we have started an Oral History Project at the Thomson Hood Veterans Center. Five interviews have been completed to date and the sixth is scheduled for early 2015. Please see the "Maps & Pictures" tab for a picture and short biography on each of our interviewees. DVD's are available at the Jessamine County Historical Society office for viewing.


Cemetery News: We are looking for information on the Cravens Cemetery. It is located on developed land and has only one stone. The stone is for "Nancy, consort of William". If you have any information, you may write me or stop by the office. Ernestine Hamm.