What's Happening at the Jessamine County Historical Society
Our website is still under construction. We hope to be adding more information over the coming months. Please come back often for updates.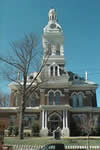 Recent Donations: We would like to thank Pete Sutherland for donating his mother's, June Collins Evans Sutherland, family history and photos. This is the largest collection of photos ever donated to us. The donation includes the Young, Collins, and Evans family Bibles. They are on display at the Jessamine County Historical Society office.
---
Dr. David Cornelius McMurtry, former member of our Society, a past President of the Kentucky Genealogical Society, Boone Society Lexington Reunion Chairman (2008), author, speaker, and educator, was called home on March 13, 2014. David is my cousin, several times removed, both of us descending from William and Mary (Boone) Bryan. He introduced me to the Jessamine County Historical Society.

Dr. McMurtry retired as a teaching professor from the University of Kentucky, earning a PhD in Education from the University of Indiana, a Masters from the University of Kentucky, and a Bachelors from Georgetown University. A native Kentuckian, he was born and raised in Harrison County. During World War II, he served as a military Court Reporter at Fort Lee, VA. He was named a Kentucky Colonel twice. Mildred (Murray) McMurtry left him a widower of many years when she was called home ahead of him. His son, David, also went to be with the Lord before his father. Dr. McMurtry is survived by his daughter, Michele Ann McMurtry and her husband Timothy Morgan, daughter-in-law, Janice Jones McMurtry, granddaughter Alyson Michele McMurtry, and a great-granddaughter, Adyson Nicole Reisz.

David was a family historian, writing and publishing several books on the McMurtry, Bryan, Strode, Hunt, and Fitzgerald families. He donated, among other items, his two most recent books, Waveland, Home of the Bryans and Fairview, Home of the Bryans, to our Society. He also lent us his expertise on the manor home, Fairview, a few months ago, as our guest speaker at one of our monthly meetings.

I, along with anyone who got to know him, miss him dearly. In the nearly eight years I knew him, I never tired of introducing him as my cousin, a True Kentucky Gentleman. - by Jessamine County Historical Society President Richard Lucas.


---
Celebrating 45 Years! We would like to thank all our members and supporters over the years. Our organization could not exist without you. We are looking forward to the next 45 years that will be even better. The Historical Society was organized in January 1969 with 81 charter members. Some of the early presidents were Mrs. Weldon Simpson, Mr. Marlin Marrs, and Mr. Robert Suell.
Cemetery News: Two of our cemeteries have been approved for Pioneer Cemetery designation. They are the Isaac Shelby Cemetery at High Point Golf Course and the Dickerson family cemetery at East Jessamine County Middle School. We hope to have a dedication service to commemorate this event. Check back for further information.

The George Stoval Smith Cemetery rock wall has been restored. Mr. William H. Baile IV restored the five breaks in this old 1936 cemetery wall. We send our special thanks to all that donated toward this restoration. They are Bob Wilson, Ben Wilson, Mary Caress, Alice Hills, David Schoumer, Richard Stowe, Howard Downing, and Connie Shotts.


April 24th meeting: Our speaker for the meeting on April 24, 2014 at 7:00 PM will be Phil Craft. He is the former state apiarist and will be speaking about beekeeping. The meeting will be held in our office at Farmers Square, 216 North Main Street, Nicholasville, KY.

May 22nd meeting: Tracy Lucas from the Camp Nelson Honor Guard will be our speaker at the meeting on May 22, 2014. The 7:00 PM meeting will be held in our office at Farmers Square, 216 North Main Street, Nicholasville, KY.

Annual Yard Sale June 5th - 8th: The annual yard sale is our biggest fund raiser of the year. If you have items that you would like to donate, please contact us at 859-885-6240. The items can also be dropped off at our office in Farmers Square, 216 N Main St., Nicholasville, KY any Thursday afternoon between 1:00 and 3:00 PM.