What's Happening at the Jessamine County Historical Society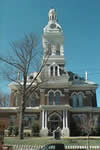 Annual Member's Picnic:
Our annual Members Picnic will be held at the Camp Nelson Honor Guard Headquarters at 12 noon on June 27th. The headquarters is located at 215 Christopher Lane, Nicholasville, KY. The guest speaker will be Pat Lovett, Director at Camp Nelson and other cemeteries in Kentucky and Indiana. This promises to be a fun and informative time for our members and their guests. Please RSVP to the Historical Society President, Richard Lucas at 859-351-2867 or Vice President, Jerry Brown at 859-887-9669.
Directions to the Camp Nelson Honor Guard Honor Guard Headquarters: From Nicholasville, take US 27 south. When you pass the main gates of the Camp Nelson National Cemetery, take the very next left. This will bring you back on to the Old US 27 2-lane road. There will be a lot of junk on the side of the road. This is not a dump; apparently it is a Jessamine
Our First Gold Sponsor
is Janelle Fain. We want to thank her for her most generous sponsorship.
Membership Renewal:
Please don't forget to renew your annual membership. The total amount of your dues goes toward maintaining your Jessamine County Historical Society. Without you, we could not exist. If you have friends or family that are interested in Jessamine County, please encourage them to join the Society. Click on the
Membership & Sponsorship
tab for an application.
---
Our theme for 2015 will be the Military. To kick off our theme, we have started an Oral History Project at the Thomson Hood Veterans Center. Five interviews have been completed to date and the sixth is scheduled for early 2015. Please see the "Maps & Pictures" tab for a picture and short biography on each of our interviewees. DVD's are available at the Jessamine County Historical Society office for viewing.


Cemetery News: Mr. Orville Duane Sharon and his family visited the 2/9 Scott Cemetery, the old home site of Stoney Lonesome, Roberts Chapel, and the Scott/Roberts Cemetery. We greatly enjoyed their visit. Their generous donation will help us maintain the Scott family cemeteries, as well as many others in the county.