What's Happening at the Jessamine County Historical Society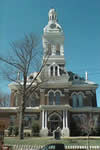 December 10th Open House:
We will be holding our annual Open House on December 10th. More information to follow.
​
November and December:
There will be no monthly meetings in the months of November or December, however, our office will be open each Thursday afternoon between 1:00 pm and 3:00 pm, except for holidays and inclement weather.
Offutt Family Cemetery:
Thanks to the hard work of Ernestine Hamm, the Offutt Family Cemetery has been found and cleaned up. There were several broken stones that have been pieced together. The full story by Mr. Tom Eblen with the Lexington Herald Leader can be accessed by clicking the following link:
http://www.kentucky.com/news/local/counties/fayette-county/article111348312.html

Kroger Community Rewards Program Annual Re-enrollment:
Thanks to all that have supported the Jessamine County Historical Society through this very worthwhile program over the last several months!! Kroger requires that everyone renew their program selection during the month of August. Please follow the instructions below:
RE-ENROLLMENT STARTS AUGUST 1:
How to RE-ENROLL in Kroger Community Rewards (if currently participating)
1. Go to www.Kroger.com
2. Click the blue Sign In tab at top of the page.
3. Enter your email address and password and click the blue Sign In tab.
4. From the department menu, click Community, then Community Rewards
5. From Community Rewards, click on the Edit or Re-enroll button.
6. Find Organization (Search by keyword or nonprofit organization number - NPO #97146)
7. Select Organization (Click the button to the left of the organization - Jessamine County Historical & Genealogical Society)
8. Save your Selection (Click the Save button to save your selection.)
9. Call 1-800-KROGERS, Option #3, with questions.
Grant Funds:
We have been informed that you will see a new box you may check on your Kentucky State Income Tax form. It is now possible to designate a portion of your state income tax refund to the Kentucky Local History Fund. The Jessamine County Historical and Genealogical Society qualifies to receive grant funds from this fund, which is overseen by the Kentucky Historical Society. Please feel free to stop by the office for more information.
A Sincere THANK YOU:
We want to thank all the individuals and organizations that made very generous donations recently to the Jessamine County Historical Society. They are: James Faulconer, Janelle Fain Ragland, Brenda Houp, Bettye Lee Mastin, Brian Young, Jerry and Sherrell Brown, Elexene Cox, and Maple Grove Cemetery.
WELCOME New Members:
Ray Clark, Sue Clark, JoAnn Lowery, Ken Rickard, Jacob Walker, Judy Woolums, Brian W. Young, and Wini Mastin Yunker.
Membership Renewal:
Please don't forget to renew your annual $20.00 membership. The total amount of your dues goes toward maintaining your Jessamine County Historical Society. Without you, we could not exist. If you have friends or family that are interested in Jessamine County, please encourage them to join the Society. Click on the
Membership & Sponsorship
tab for an application to either mail or drop off at our office.
Kroger Community Rewards Program:
The Jessamine County Historical Society has recently enrolled in the Kroger Community Rewards Program which is completely free and allows the Society to receive monies based upon our members' purchases. We encourage everyone to enroll their Kroger Plus cards and select the Jessamine County Historical & Genealogical Society as their preferred donation organization. The printable PDF instructions may be obtained by clicking
here
.
---
Cemetery News: We have one cemetery that we will be getting help from Robert's Chapel. They are going to maintain the Scott/Roberts cemetery which the Historical Society restored in 2004. Edwin Roberts was their first pastor. We greatly appreciate their help. We have pieced together 5 stones from the many pieces that we found at the Offutt cemetery. We hope to place this on the graves with new black granite markers bearing their information on each grave. We are now into our fall clean up with weed eating and clearing limbs and other debris. Although our donations have been down for this year, we still got a lot of work done. A special thanks to all those who donated to the Thomas Reynolds cemetery. Your donations will help get through this year and part of next year. Ernestine Hamm.