We were so saddened to hear of the passing of one of our long time Society members. Mr. Howard Curry Teater served as our President for 3 terms. His first term was from 1991 through 1993, then continued for a second term from 1993 through 1995. He then served from 2001 through 2003. He was very instrumental in finding many of the old cemeteries in Jessamine County. He published three cemetery books that are widely used today. We send our condolences to all his friends and family. Mr. Teater will be missed.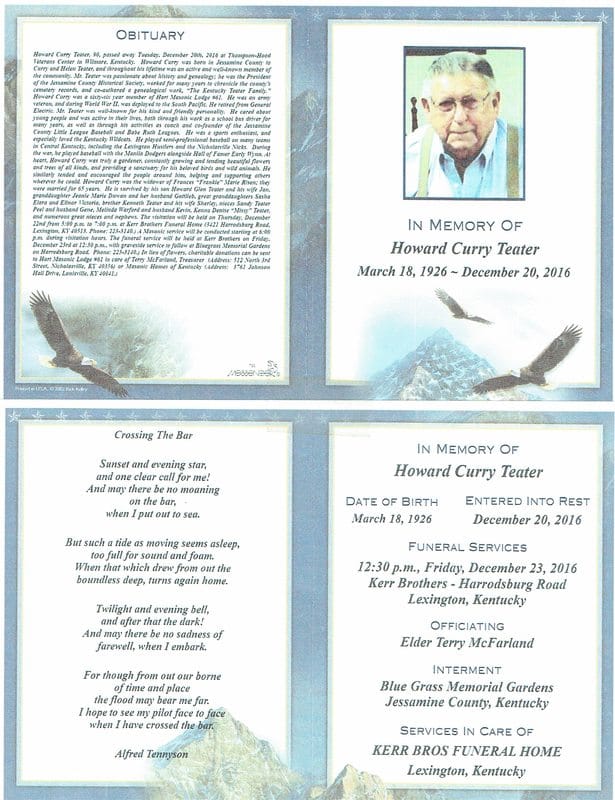 What's Happening at the Jessamine County Historical Society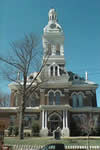 Jessamine County Pictorial History Book 2016:
The new Jessamine County Pictorial History Book 2016 is available for purchase through our office. It can be obtained by stopping by our office on Thursday afternoons between 1:00 & 3:00 pm, or by printing an order form & mailing to our office. Please see the link on our "For Sale" website page.
​
​​
Chili Cook Off, March 18th:
Our second annual Chili Cook Off will be held at the Blue Building in the City/County Park at 12:00 noon. Keene, Wilmore, & Nicholasville teams are participating. Tickets are $5.00 in advance or $7.00 at the door. The ticket price includes chili, a sandwich, desert, and a drink. Our speaker will be Mr. Brandon Slone from the Kentucky Military History Museum. He will be discussing Kentucky's participation in World War I. All proceeds support the Jessamine County Historical Society.
April 27th meeting:
We will be commemorating World War I.
Business Meeting, May 25th

​June 24th:
We will be holding our annual member's picnic. More information to follow.
Offutt Family Cemetery:
Thanks to the hard work of Ernestine Hamm, the Offutt Family Cemetery has been found and cleaned up. There were several broken stones that have been pieced together. The full story by Mr. Tom Eblen with the Lexington Herald Leader can be accessed by clicking the following link:
http://www.kentucky.com/news/local/counties/fayette-county/article111348312.html
Kroger Community Rewards Program Annual Re-enrollment:
Thanks to all that have supported the Jessamine County Historical Society through this very worthwhile program over the last several months!! Kroger requires that everyone renew their program selection during the month of August. Please follow the instructions below:
RE-ENROLLMENT STARTS AUGUST 1:
How to RE-ENROLL in Kroger Community Rewards (if currently participating)
1. Go to www.Kroger.com
2. Click the blue Sign In tab at top of the page.
3. Enter your email address and password and click the blue Sign In tab.
4. From the department menu, click Community, then Community Rewards
5. From Community Rewards, click on the Edit or Re-enroll button.
6. Find Organization (Search by keyword or nonprofit organization number - NPO #97146)
7. Select Organization (Click the button to the left of the organization - Jessamine County Historical & Genealogical Society)
8. Save your Selection (Click the Save button to save your selection.)
9. Call 1-800-KROGERS, Option #3, with questions.
Grant Funds:
We have been informed that you will see a new box you may check on your Kentucky State Income Tax form. It is now possible to designate a portion of your state income tax refund to the Kentucky Local History Fund. The Jessamine County Historical and Genealogical Society qualifies to receive grant funds from this fund, which is overseen by the Kentucky Historical Society. Please feel free to stop by the office for more information.
A Sincere THANK YOU:
We want to thank all the individuals and organizations that made very generous donations recently to the Jessamine County Historical Society. They are: Mr. Charlie Moore, Ms. Beverly Weagley, Mr. Dean Richards, Mr. George Dean, Mr. Jerry Brown, and Ms. Sherrell Brown.
WELCOME New Members:
Ray Clark, Sue Clark, JoAnn Lowery, Ken Rickard, Jacob Walker, Judy Woolums, Brian W. Young, and Wini Mastin Yunker.
Membership Renewal:
Please don't forget to renew your annual $20.00 membership. The total amount of your dues goes toward maintaining your Jessamine County Historical Society. Without you, we could not exist. If you have friends or family that are interested in Jessamine County, please encourage them to join the Society. Click on the
Membership & Sponsorship
tab for an application to either mail or drop off at our office.
Kroger Community Rewards Program:
The Jessamine County Historical Society has recently enrolled in the Kroger Community Rewards Program which is completely free and allows the Society to receive monies based upon our members' purchases. We encourage everyone to enroll their Kroger Plus cards and select the Jessamine County Historical & Genealogical Society as their preferred donation organization. The printable PDF instructions may be obtained by clicking
here
.
---
Cemetery News: For those of you that don't already know, our cemetery project lost it's founder, Mr. Howard C. Teater. His hard work in locating and identifying our old cemeteries has enabled us to preserve them. He also worked in the field on many of the 60 cemeteries that we have restored. He leaves an empty place in our cemetery project, but also in our hearts. It looks like an early spring in Kentucky! If this weather holds, we'll be working in the cemeteries in March. Ernestine Hamm.